Roku TV is the most popular streaming device to watch movies and TV programs. Now you can use MovieBox Pro, the best movie app with your Roku TV!
MovieBox Pro for Roku TV new version has been released and available to download for your device for free.
In this article, we've outlined the steps to install MovieBox Pro app to your Roku TV device to improve your viewing experience and get the most out of Roku.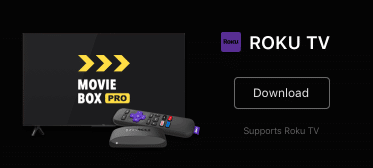 Download MovieBox Pro Latest Version for Roku TV

MovieBoxPro_v1.0.1.zip
How to install MovieBox Pro on Roku TV ?
MovieBox Pro is a third party streaming application. So that is not available on Roku Channel Store. Roku TV does not officially support the installation of apps that are not available in Roku Channel Store. Hence, If you like to have the latest MovieBox Pro on your Roku TV, you need to follow below instructions.
Firstly, you have to enable developer mode in your device
Activating developer mode
To activate developer mode on your Roku TV, follow these steps
Step 1. Use your remote controller and press particular buttons in sequence. 
HOME > HOME > HOME > UP > UP > RIGHT > LEFT > RIGHT > LEFT >RIGHT

Step 2. You will see "Developer Settings". Keep noted IP address and user name that is displayed on the screen. Continue process with "Enable installer and restart".
Step 3. "Continue" in security warning message. 
Step 4. Roku TV will reboot and will get "Developer Application Installer" 
Step 5. Read the terms and conditions for using developer mode and select "I Agree".
Step 6. set a password for developer application installer on web browser and remember it.
Step 7. Click on "Set Password and Reboot".
After reboot your Roku TV, it is activated in developer mode. Now you are ready for sideloading third-party apps.
Side-loading MovieBox Pro app
Step 1. Connect your TV to PC and open a web browser. Enter IP address (Noted down in previous) in to the URL bar.
Step 2. Log in to your Roku TV with user name and password.
Step 3. "Choose file" on the development application installer page and upload the MovieBox Pro zip file, which was downloaded earlier.
Step 4. Finally, click "Install" and reboot the device.
That's it. Now you can enjoy with the best free movie app on your Roku TV. Just navigate through MovieBox Pro app and enjoy with your favorites.  
Disclamer
Please be aware that Roku may update their firmware to block or restrict these methods in the future, so what worked in the past may not work in the future. Additionally, side-loading apps can introduce security risks and instability to your Roku device. Proceed with caution and understand the potential consequences. Always check Roku's official website and documentation for the most up-to-date information on their policies and features.