Download vShare For PC
These are the instructions on how to download vShare (vShare Helper or vShare App) for your PC (Windows computer). Please note, we are not affiliated with vShare or vShare Helper application and recommend to use for entertainment & educational purpose only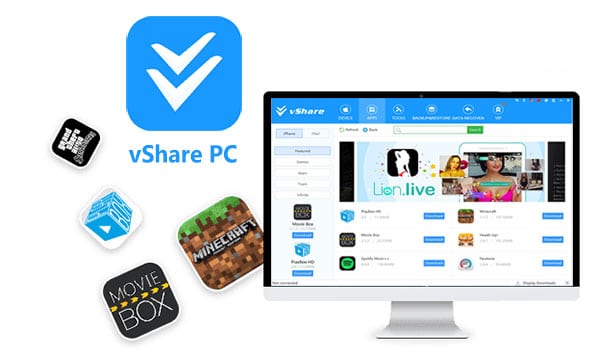 So many peoples are interesting to get vShare for PC. Yes, it can easily install to your Windows computer without any matter. vShare Helper is the PC version of vShare app available to download for your computer. It is very smart alternative to the iTunes. After installing it, you will be able to share & manage apps with your iPhone or iPad easily.
As well as, you can install vShare App also on your PC. Then you will be able to run vShare app on your computer as it use on your mobile device. So, you can download & install games & apps to your computer using vShare.
Firstly, we'll talk about vShare PC client (Helper) application and how to download it for your computer. After that, let see how to install vShare App on PC with Bluestacks Android app player.
vShare for PC – vShare Helper download
What is vShare Helper ?
vShare Helper is a powerful tool that can communicate your iPhone or iPad with a PC. It is the PC client of vShare app so you can download & install on your Windows computer. According to its features, vShare Helper is a best alternative to iTunes for Windows. According to the users, it is the best iOS Helper ever. With vShare Helper application installed on PC, you will be able to download original vShare App (vShare SE) for any iPhone, iPad or iPod device without the jailbreak.
vShare Helper Features
Super Fast & easy file (photo/video/music/etc.) transfer between PC and iOS devices
Download & install Apps & Games for your iPhone, iPad or iPod quickly
Install vShare App on your iOS device
No need jailbreak
Can manage (copy/update/delete) all apps on your iDevice
Fix app crashes issues & improve stability of the apps
Can recover accidentally deleted iPhone data
iOS system update & factory restoring
Can make ring tones (can convert any music to a ringtone)
Support Windows 10/8.1/8/7/XP and iOS 11 to iOS 7 any iPhone, iPad or iPod
vShare Helper Compatibility
Devices:
iPhone X, iPhone 8/8 +, iPhone 7/7+, iPhone 6S/6S+, iPhone 6/6+, iPhone SE, iPhone 5S, iPhone 5C, iPhone 5, iPhone 4S, iPhone 4
iPad Pro 12.9/9.7-inch, iPad(2017), iPad Air 2, iPad Air, iPad 4, iPad 3, iPad 2
iPad Mini 4, iPad Mini 3, iPad Mini 2, iPad Mini
iPod Touch 6, iPod Touch 5
Firmware:
iOS 7.0 – iOS 11.2.5 (with or without jailbreak)
Windows XP / Vista / 7 / 8 / 8.1 / 10
Download vShare Helper
Visit vShare official site with your Windows PC
Click on yellow "Download" button to download vShare Helper free version on to your computer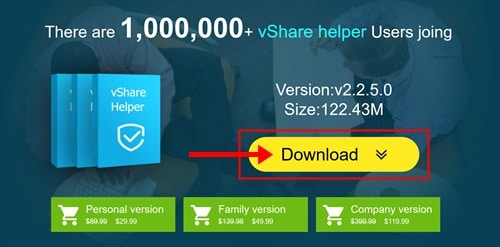 How to install & use vShare Helper on Windows PC ?
Step 1 : Download vShare Helper on to Windows computer using above link
Step 2 : Double click on downloaded exe file and follow on screen instructions to install
Step 3 : Connect your iPhone,iPad or iPod to PC and wait it to authorize your device
Step 4 : One it complete, vShare helper will show all detail of your iOS device connected.
That's it. Just check it out, it has now installed vShare app (vShare SE) on your iOS device Home screen. Stay connect, then you can do lots of things using vShare Helper with your iPhone, iPad or iPod that mention above.
Download vShare for PC with Android Emulator
Can you install and use vShare App on your computer? ( because vShare Helper unable to use without a iOS device). Yes, you can enjoy vShare features directly on your. PC without a iPhone, iPad or Android device. So, it can be possible with a simple trick.
vShare Android is the most popular application among Android world. It gives ultimate features for users like vShare iOS application. So, how you can enjoy vShare features with a PC ? Now, you no longer worry about it. You can simply get it for Windows. The trick is just download & install vShare APK on PC using any Android Emulator (App player) software for Windows. Lets see how to do that..
How to download vShare for PC with Bluestacks emulator ?
You can use any Android Emulator software to install vShare APK for Windows. Here I use one of the most popular & powerful app Player is called Bluestacks.
Step 1 : Download Bluestacks Android Emulator on your Windows PC
Step 2 : Download vShare APK file latest version on your PC
Step 3 : Install Bluestacks
Step 4 : Open vShare APK file downloaded with Bluestacks and install vSahre
Step 5 : Open vShare App installed in Bluestacks and get a real vShare PC experience