Download MovieBox / MovieBox Pro on iOS (iPhone / iPad)
Here you can find all instructions & guides to download and install MovieBox for iOS devices (iPhone or iPad) without jailbreak for FREE. Note that, we are not affiliated with MovieBox app and all right reserved for the respective owners. The contents are honestly for testing and knowledge-based purposes only.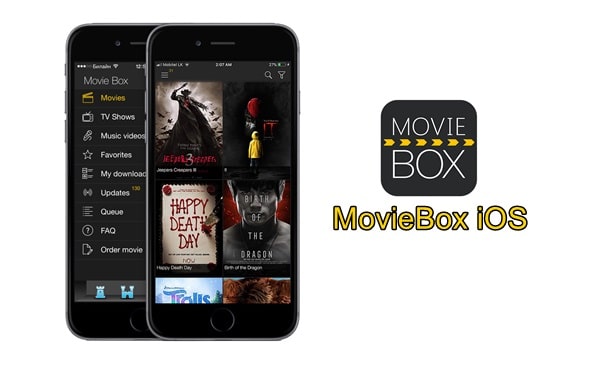 MovieBox PRO Latest Version For iOS
MovieBox PRO is the best video streaming application for Apple iOS users. Using MovieBox PRO iOS app, you can watch movies and TV shows online or download directly on your iPhone or iPad for Free. There are over 15000 newest & hottest collection of movies & TV series available and update daily. MovieBox offers very high-speed download and playback without waiting and no regional restrictions.
MovieBox PRO iOS – Compatibility
This app is compatible with following iPhone, iPad & iPod Touch devices & firmware versions
Devices:
iPhone 11/11 PRO/11 PRO Max, iPhone XR, iPhone XS/XS Max, iPhone X, iPhone 8/8+, iPhone 7/7+, iPhone 6S/6S+, iPhone 6/6+, iPhone SE, iPhone 5S,
iPad Pro (3rd Gen), iPad Pro (2nd Gen), iPad Pro, iPad 6, iPad 5, iPad Air 2, iPad Air,
iPad Mini 4, iPad Mini 3, iPad Mini 2
iPod Touch 6
Firmware:
iOS 13.3.1, iOS 13.3, iOS 13.2.3, iOS 13.2.2, iOS 13.2.1, iOS 13.2, iOS 13.1.3, iOS 13.1.2, iOS 13.1.1, iOS 13.1, iOS 13, iOS 12.4.3, iOS 12.4.2, iOS 12.4.1, iOS 12.4, iOS 12.3.1, iOS 12.3, iOS 12.2, iOS 12.1.4, iOS 12.1.3, iOS 12.1.2, iOS 12.1.1, iOS 12.1, iOS 12.0.1, iOS 12.0, iOS 11.4.1, iOS 11.4, iOS 11.3.1, iOS 11.3 – iOS 10
Install Online – For Safari users (No computer)


Latest Version 6.5 [Updated 06.02.2020] | Online [Safari Users]
MovieBox PRO uses the latest H264 and H265 encoding requires iOS 10 and above to use. If you are with lower iOS version, follow alternative app such as CotoMovies or MediaBox HD for your device.
How to download MovieBox for your iPhone or iPad? Most off the users are confusing about this. They are trying to download MovieBox with App Store. But, this app is not available in the Apple App Store. Therefore you have to follow our direct download link to get MovieBox PRO iOS app for your device.
Side-load the app with Cydia Impactor (Need a computer)
Cydia Impactor is the best tool to side-load any IPA files for Apple iOS devices without jailbreak. Using this tool, you can successfully install the Moviebox IPA file for your iPhone and iPad.
How to install MovieBox IPA on iOS? (iPhone/iPad)
Step 1: Download the Movie Box IPA file from the above links onto your computer.
Step 2: Download Cydia Impactor tool from here.
Step 3: Connect your iPhone / iPad to the computer using a USB cable.
Step 4: Open Cydia Impactor.
Step 5: Drag and drop the downloaded IPA file onto Cydia Impactor.
Step 6: Enter a valid Apple ID and password, when Cydia Impactor asks.
Step 7: Wait for few minutes until Cydia Impactor completes the process.

Step 8: Once app is installed, go to "Settings" >> "General" >> "Profiles & Device Management". Find the profile associated with your Apple ID and open it. Then, tap on the "Trust"
Step 9: Now you can find & open the Movie Box app installed on your Home screen. Start to have an amazing MovieBox App experience right now..
Important: You need a special code is called "Invitation code" to use MovieBox PRO on any device
How to get an Invitation code? 
Send email to support@movieboxpro.app using your Gmail account and request "Invitation code"
Wait until the code received to your inbox. (Sometimes it will take a few hours)
Once it received, open MovieBox PRO app on your device home screen and Sign In with the same Gmail
Enter "Invitation code" you received and activate your MovieBox PRO app
MovieBox Alternatives
Looking for an alternative app to MovieBox/MovieBox Pro? We can recommend a few applications available for free download with great features and functionalities for you.   


Here we have given all the necessary information regarding MovieBox iOS installation. We hope this may helpful for you and please contact us if you have any questions regarding the installing. Let us know your experience with MovieBox by the comment section below.
Old Tutorials :