These are the instructions to install Movie Box on iOS devices using the TutuApp installer (Tutu Helper). This method can apply for any iPhone, iPad running on iOS 8, 9, 10, 11 – 11.3, 11.4 without jailbreak & No computer. Here's all you need to know about TutuApp MovieBox download.
MovieBox Download Tutorial : No 01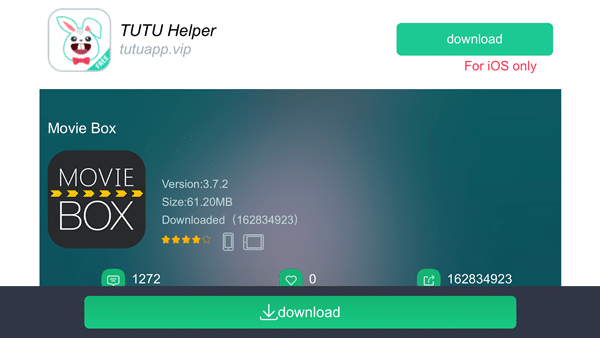 What is MovieBox ? As we know, you all are interesting with movies, but most of the peoples can not find a time to go for a cinema. But, they can use their smart phone or computer to enjoy movies. MovieBox is the ideal application to watch and download any Movie, TV-Show directly on your mobile phone for free of charge. This amazing app is compatible with all iPhone, iPad & Android devices as well as your PC also.

 Download & install MovieBox on iPhone, iPad with TutuApp
TuTu App is the best iOS Helper & installer to install / side-load 3rd-party apps for iPhone, iPad without jailbreak. Here we teach you how to use TutuApp to download & install Movie Box directly to your iOS device with No computer and No jailbreak.
Update :
Movie Box has updated to version 4! Now you can download the latest version, Movie Box 4.0.2 with TtutApp.
Tutu App Movie Box Features
No need jailbreak
No need computer
No need Apple ID or Login
High speed download
Available latest version – Movie Box 4.0.2 (updated 17-04-2018)

Greater compatibility – Support any iPhone & iPad running iOS 8, 9, 10 & 11
Compatibility
Devices:
iPhone X, iPhone 8/8+, iPhone 7/7+, iPhone 6S/6S+, iPhone 6/6+, iPhone SE, iPhone 5S, iPhone 5C, iPhone 5, iPhone 4S, iPhone 4
iPad Pro 12.9/9.7-inch, iPad(2017), iPad Air 2, iPad Air, iPad 4, iPad 3, iPad 2
iPad Mini 4, iPad Mini 3, iPad Mini 2, iPad Mini
Firmware:
iOS 11.3, iOS 11.2.6, iOS 11.2.5, iOS 11.2.2, iOS 11.2.1, iOS 11.2, iOS 11.1.2, iOS 11.1.1, iOS 11.1, iOS 11.0.3, iOS 11.0.2, iOS 11.0.1, iOS 11.0
iOS 10.3.3, iOS 10.3.2, iOS 10.3.1, iOS 10.3, iOS 10.2.1, iOS 10.2, iOS 10.1.1, iOS 10.1, iOS 10.0.2, iOS 10.01
iOS 9.3.5, iOS 9.3.4, iOS 9.3.3, iOS 9.3.2, iOS 9.3.1, iOS 9.3, iOS 9.2.1, iOS 9.2, iOS 9.1.1, iOS 9.1, iOS 9.0.3, iOS 9.0.2, iOS 9.0
iOS 8.4.1, iOS 8.4, iOS 8.3, iOS 8.2, iOS 8.1.3, iOS 8.1.2, iOS 8.1.1, iOS 8.1, iOS 8.0.2, iOS 8.0.1, iOS 8.0
How to install MovieBox on iPhone, iPad using Tutu app Installer
Step 01:
Tap on below link with your device Safari browser


Step 02:
You will get a screen like bellow and Tap on "Download" button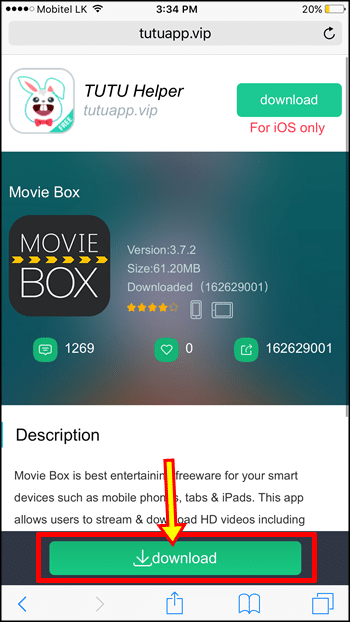 Step 03:
Click on "Install" to download Movie Box on your iPhone, iPad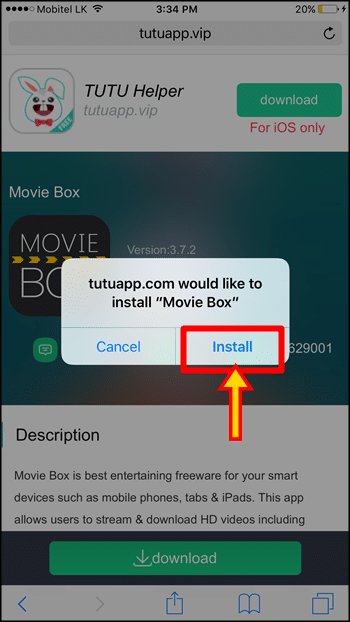 Step 04:
Now you can see Moviebox app is downloading & installing on your Home screen. Wait few minutes until complete the process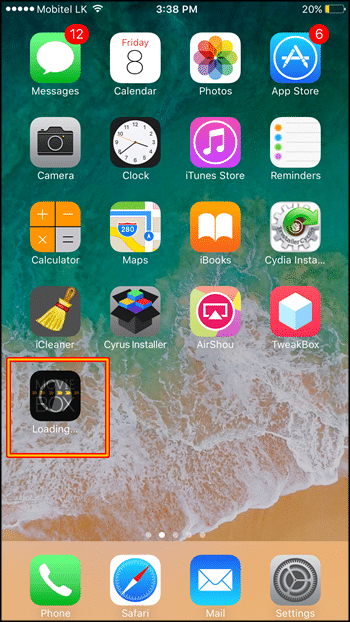 Step 05:
That's it. Movie Box app now on your iPhone, iPad Home screen. Just tap on the icon & find your favorites movie or tv-show to watch online or download directly on your deice.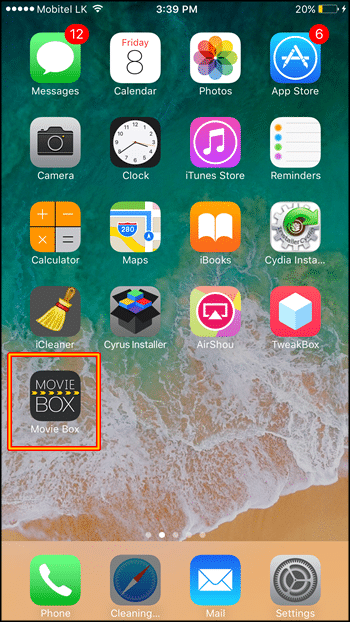 MovieBox Trobleshhooting :
Error : No available for online watch
This is the most common location based error associated with MovieBox. However, now we have a proper fix for this error. Here's,
Note :
As this, you can successfully installed Movie Box on iOS devices using Tutu app or any other installer without having jailbreak. However, apps are side-loaded on iPhone, iPad using 3rd-party installers often get crashed or revoked by Apple. Fortunately, now we have a real solution to stop/prevent sideloaded or hacked apps getting revoked. So, you also can use this method to keep your Movie Box app forever with your device without getting it crashed/revoked
Here's..
Unable to install with Tutu ? Just try following methods..